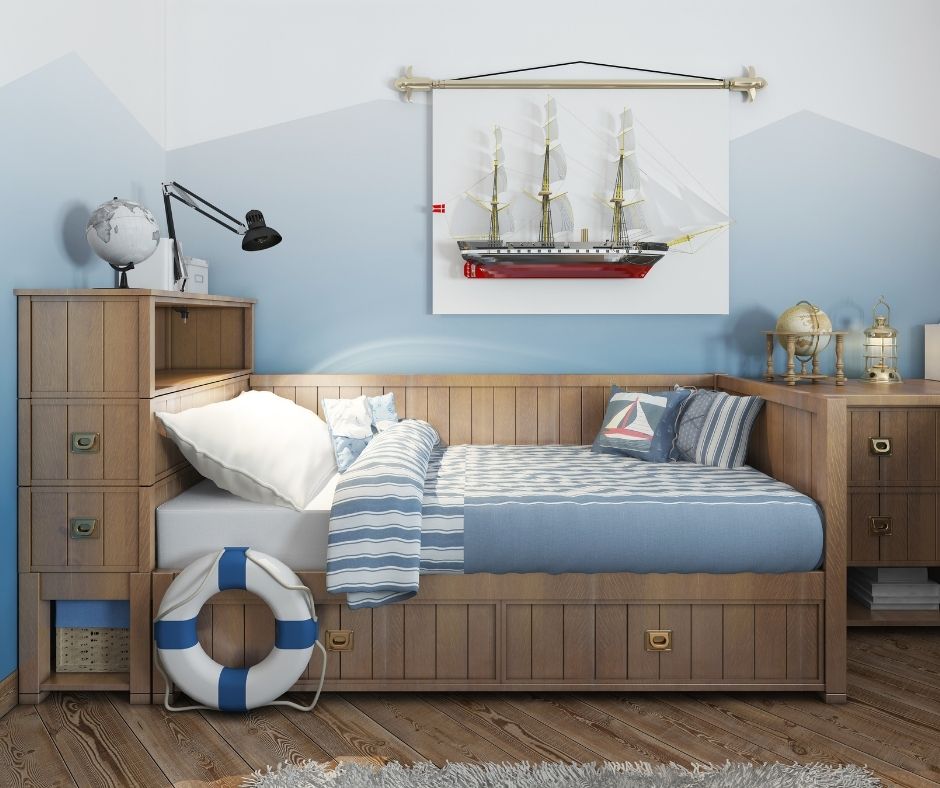 Dreaming up ideas for your child's room can be difficult—what if they grow out of it in a year or so? The key is to keep it simple while still representing their interests. Check out these creative decor ideas for children's bedrooms.
Maps
If you've got the travel bug, there's a good chance your child does too—or at least, will one day. Use old maps to decorate their room. Frame them or sketch a silhouette of a family vacation onto one wall as an accent.
You can supplement the design with globes from thrift stores and even vintage model airplanes. Plus, covering their walls with maps could help them hone their geography skills as time goes on.
Nautical Theme
Creating a nautical theme will go hand in hand with the travel vibe, especially if your son or daughter is into sea life. The nautical style is incredibly versatile; you can add or remove elements as they age. Use blues and greens in your color palette, and don't be afraid to bring the outdoors in by including items like shells or driftwood.
Budding Artist
Every parent occasionally finds marker or crayon scribbled onto their furniture or walls. Give your kids the opportunity they need to explore their artistic side by letting them do the decorating! Cover a wall or two with chalk paint, and let them go crazy.
Geometric Designs
To keep it even easier, try a simple geometric design decor. Paint simple shapes or designs onto all four walls—or only one if you want to create an accent wall. You don't even have to break out the paintbrush; use wall decals instead.
Reuse Old T-shirts
Hang onto those old T-shirts or jerseys they've outgrown—you can repurpose them in several fun ways. Create a headboard with batting material and plywood. If you're a craftier mom, you can turn them into pillows or, even easier, frame them as wall art.
Reading Nook
Do you have a bookworm at home? Make them a reading nook! Use old sheets or blankets, and fashion them into a tent with string lights and floor pillows to give them a cozy spot to enjoy their favorite stories.
There are tons of creative decor ideas for children's bedrooms! With a bit of thought and skill, you can transform their room into something they will love for years!