Disclosure: I have been given a free trial to review Redbox Instant by Verizon. I have not been compensated for this review and all opinions are my own.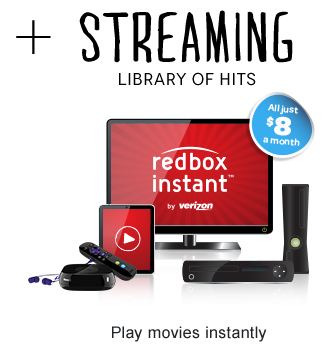 Redbox is offering a new service called Redbox Instant. In addition to their movies and games you can rent from their Kiosks you can now also pay a monthly subscription to have access to streaming movies. These movies are NOT the same as the movies available at the kiosks. They are movies that are a tad bit older. The subscription cost is $8 per month, which isn't too bad. I'll go through my list of good and bad about the service.
The good:
1. You get to have a 30 day trial to test it out with no commitments.
2. You get 4 free dvd rentals with your 30 day trial.
3. After your trial is up the cost is low at $8 per month.
4. Some movies are offered that aren't available on other services like Netflix.
The bad:
1. The current selection is poor. I feel like I can still get more content for my money with Netflix.
2. The service is glitchy. I've had several problems getting the streaming to work consistently.
Overall I had high hopes for the streaming service. It's just not there yet. For right now, I will not be continuing my service after my free trial is over. But I do encourage you to try out the free trial. Who knows? You may really enjoy the service and decide to continue with it.