Disclosure: I have been given a free Caper to review for Rain Caper. I have not been compensated for this review and all opinions are my own. 

I was lucky enough to get my Caper in the mail a little over a month ago. Up until I got my Caper in the mail we had some dreadfully rainy weather so I was looking forward to trying my Caper out. Of course after I got my Caper the weather cleared up (which I'm not complaining about) so I wasn't able to try it out until we went on vacation in Florida. Unfortunately we had terrible weather almost the entire week we were in Florida so I had plenty of time to test out my Caper.
I will start by telling you how amazing and compact the Capers are. They fold into themselves and are small enough to fit into my purse. So I didn't have to worry about carrying around a bulky rain coat. The only downside to it being compact is that it is thin so it won't keep you warm when it's cold outside. When I wore it I would typically wear it over my coat which worked out fine. Since the Caper is thin it never felt too bulky over my coat and it kept me dry. Capers will be perfect for the upcoming Spring and Summer showers.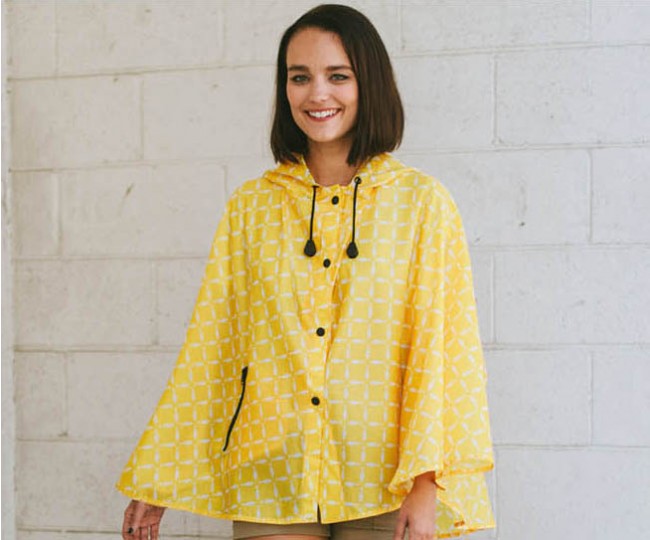 Capers are incredibly stylish and come in four different color options. You can choose from yellow with a print of swimming fish, Boardwalk Blue, Manhattan Pink or Black and White Hound and Kitty print. And best of all they are extremely affordable at only $24. From now until January 31st you can receive a 25% discount if you use a coupon code exclusively for Mom Elite readers, coupon code: momelite.
And here's some even better news for my readers! I'm giving you a chance to win a Caper with your choice of color. Be sure to enter now and share with your friends! For more information about Capers visit their website, follow them on Facebook, Twitter, Pinterest and Instagram.